CNN
—

BBC reporter Edward Lawrence was arrested by police at the scene of a protest in Shanghai on Sunday night, according to what appears to be a mobile phone video of the arrest, according to the BBC.
Although he has since been released, a BBC spokesman expressed extreme concern about what happened to him, saying he had been "punched and kicked by the police".
Protests have erupted across China in a rare expression of dissent against the ruling Communist Party, sparked by anger over the country's increasingly costly zero-Covid policy.
Among the thousands of protesters, hundreds even called for the ouster of Chinese leader Xi Jinping, who for nearly three years has overseen a strategy of mass testing, forceful lockdowns, enforced quarantines and digital tracing that has taken a toll on humanity. Devastating blow. and economic costs.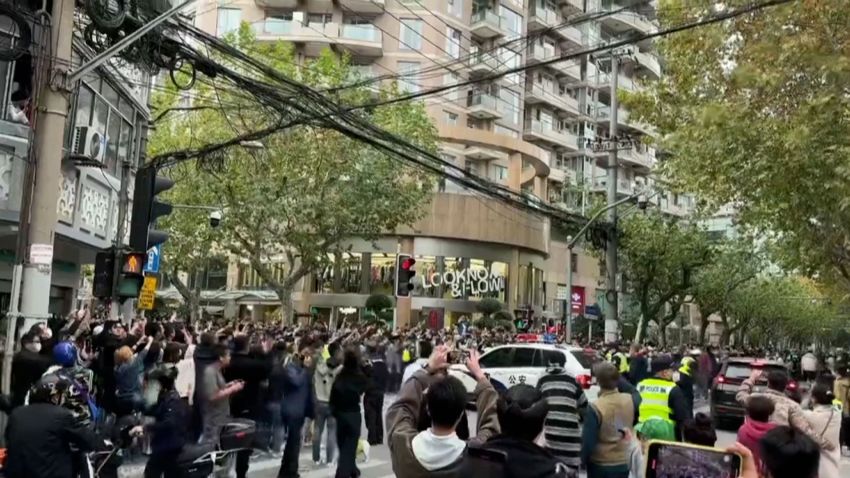 Hear Chinese protesters call for Xi to step down
The full text of the BBC's statement read: "The BBC is very concerned about the fate of our reporter Ed Lawrence, who was arrested and handcuffed while covering the Shanghai protests. He was held for several hours before being released. During his arrest, he was punched and kicked by the police. This happened while he was working as a registered journalist."
The statement continued: "It is very worrying that one of our journalists was attacked like this in the course of his duties. We have received no official explanation or apology from the Chinese authorities, except that the officials who later released him claimed that they arrested him for his own good." , in case he caught Covid from the crowd. We don't think that's a plausible explanation."
At a regular news briefing on Monday, Chinese foreign ministry spokesman Zhao Lijian acknowledged Lawrence's detention but claimed he did not identify himself as a reporter before being taken away by police.
"China has always welcomed foreign journalists to come to China for reporting in accordance with the law and has provided a lot of assistance," Zhao Lijian said. "At the same time, foreign journalists should abide by Chinese regulations when reporting in China."
Public protests are extremely rare in China, where the Communist Party has tightened its grip on all aspects of life, launched a sweeping crackdown on dissent, wiped out much of civil society and created a high-tech surveillance state.
At least two videos of the arrests were posted online by a Twitter user who said they witnessed the scene. Footage filmed from above shows at least four police officers standing next to a man in handcuffs and his face covered.
In a second clip of a man in the same suit, Lawrence's face is clearly recognizable as police quickly remove him before shouting: "Call the consulate now."
Witnesses who shared the video said they saw the journalist "surrounded by several police officers and dragged to the ground".
It is unclear what happened to Lawrence before his arrest. The video available online begins with his arrest and does not show what happened before.
In an interview with Sky News on Monday, the UK government described Lawrence's arrest as a "pretty big problem".
Business Secretary Grant Shapps said: "There is absolutely no excuse for a journalist who is only reporting on being beaten by police."
Lawrence was not the only foreign journalist detained by Chinese police on Sunday. Michael Peuker, a Chinese journalist for Swiss broadcaster RTS, was also briefly detained while covering the protests in Shanghai live, the RTS said.
"The tension here is at its peak. As proof, I'm now surrounded by three police officers, and I'm going to be taken to the police station after this livestream," Peuker said during the livestream. "I'm leaving you now and going to the police," he added.
He was released shortly after, Peuker said on Twitter.